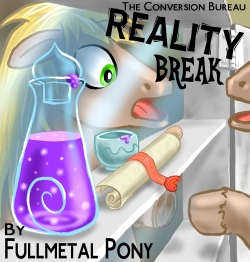 It's not real, it can't be real. Ponies are just cartoons and some fanfics on the internet. The wings, the hooves... I'm just having a bad dream!
I wish that were true. But pain, friends, and a strange drink are telling me this is all too real. I'm a pony now and I think the world is falling apart.
People, the end is nigh, the world has decided to go out with a bang, and it's taking us along for the ride.
*Loosely based on "The Conversion Bureau" universe.*
*Note about the art. Chatoyance was very kind to create some fan art. Just as a little note though "John" has brown hair not bond. Just a little tidbit to keep in mind while reading. Thanks so much again Chatoyance!*
Chapters (24)