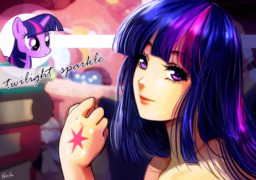 Source
Infinite Dendrogram, the first truly immersive Full-Dive VR MMO Game. A world said to live up to its title with endless possibilities and opportunities. Grand adventures, treasured allies, and unbelievable sights are just a few of the countless things the game promises.
Tiara just wants to focus on her research.
Her advisor has other plans though.
With Spring Break is coming up, it's not like Tiara has a legitimate excuse to not play (she does question her advisor actually asking her to goof off with video games though).
Twilight Sparkle sounds like an okay avatar name?
Best not to think too much on it. This is just a game, after all... right?
An Infinite Dendrogram Crossover
Chapters (7)