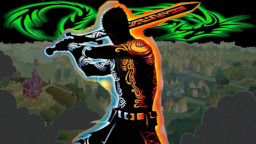 He hailed from the Rift, the home of his people. His blessing was granted by the two Goddesses of Light and Dark. He was chosen to brave the wilds to make his pilgrimage. It was time for him to face the beast, the Great Wyrm: That which would eat the Ley Line whole. Passed lesser beasts and the allies of the Wyrm, his boons aided him, and he dispatched them. Until they finally met for their confrontation. His resolve, unshakable. He would face the unholy monster to save the world. With Light and Dark coursing through his sword, he hewed it. Ever did the Wyrm try to unmake him. It seemed victory was near for the savior but the Wyrm was a tricky creature. It would buy more time before facing this mortal again. And so the Wyrm expelled him to the other side of the Ley Line, far across the sea, to another land. Thus the Wyrm would slowly journey, recovering its strength to meet its enemy again.
Thus begins a new chant of his journey in the land beyond the Ley Line, and how he and the Elements of Harmony bridged the gap between their two lands, and saving the world in the process.
Note: Genres of stories will be added as story progresses. This story is a loose crossover between Outland and MLP: FIM. Its mostly FIM, but Outland is loosely applied with a different canon and mythos. Also, don't expect this to be updated as averagely as other stories here due to IRL stuff. I'm strictly doing this for my enjoyment.
In addition, I find this story a nice way to introduce a native-human race that exists (in this fanfic) in the same world Equestria resides, but is separated by the powerfully dangerous Ley Lines. For a map of reference, go to this link below.
http://fc07.deviantart.net/fs71/f/2011/335/a/4/equestria_and_beyond__rev_8_1_by_hlissner-d46wmzm.jpg
Outland is owned by Ubisoft Entertainment
MLP: FIM is owned by Hasbro
Map by Hlissner
Almaline language by Bryant K
Title Page Copyright Acknowledgments
Ponyville: Hasbro
Hero of Outland: Ubisoft
Wyrm: Wallpaper designed by norbi862
Also also also Announcement: YAY! Our first 'thumbs down!' And right after I finish it! What took my critics so long? :-D
Also also Announcement; WOOHOO! We broke 50 thumbs up! HAPPY DANCE
Also Announcement: Yes, I changed my username. No, this account was not hijacked by someone else.
Announcement: Credit goes to frieD195 for editing my fanfic. You have my gratitude!
Chapters (11)