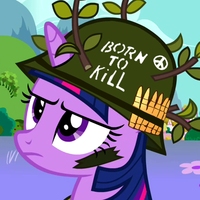 A military college student named Johnson is thrown into Equestria during a routine training operation. He is a dedicated Brony, but must decide how to live in a world of peace and friendship when he is in training to be a solider.
Will he run to the town we all know who lives in.
Or run to the Princess to gain diplomatic immunity
or will he become a hero to stop an ancient evil that has returned to complete its unholy task.
Chapters (41)