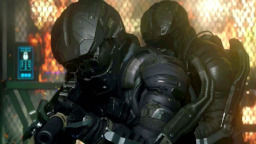 At the height of war against Atlas Corporation, Gideon and Jack Mitchell are sent with a team of Sentinel operatives on a covert ops; shortly after their R&R.
However, things went sideways, and they were thrust headlong into a peaceful world filled with multicolored talking ponies. In the aftermath of the events, the Sentinels realize that they have no way to return home.
But when a new war threatens their new home and friends, the Sentinels are called forth once again to do what they do best...
---
A CoD: Advanced Warfare and MLP: FIM crossover.
Call of Duty belongs to Activision and MLP: FIM belongs to Hasbro (or else I'd be bathing in money now

). And any videos or pictures belong to their rightful owners or companies or etc.
I own nothing, aside from the story itself.

And comments of why you like or dislike this fict are greatly appreciated.

Enjoy!
Chapters (23)