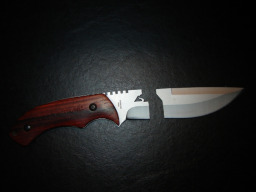 Some say reality and the physical world are tied into a series of strings. That space and time are woven into an unbreachable fabric, a thick sheet that separates an unthinkable amount of worlds and realities. None of this is true, yet at the same time, it is. With a little influence and the right amount of force and energy, holes can be created, passages through which one may slip through. This isn't the only way, however. There are other ways. Naturally occurring tears and rifts that fit perfectly in the order of the universe.
The Battle of the Western Coast has been over for years now .Treaties have been signed and alliances formed, but the land has fallen into a restless peace. Trouble brews in Equestria. While most of the Lotkin tribes have settled on land granted to them by The Royal Sisters, renegade bands still roam the land, driven by some unknown force.
A fighting legend, a leader and the founder of Equestria's elite Royal Special Tasks Group has disappeared without a trace. His legacy is carried on by those he trusted most, running and expanding the unit he started, but can they continue without the experience and guidance he provided?
Another may have arrived to help. A man on a continuous search for his lost brother-in-arms stumbles onto the path his friend had previously walked, quite by accident. With luck, he may find what he was looking for.
This is a sequel to the first. If you don't read the first, you wont understand half of it.
OC Iron Defense created by: Shawn820
OC Howitzer created by: Cyber
OC Swift Paws created by: Danish Adonis
OC Blackjack created by: Reignbow
OC Redflare created by: Radical Prescott
OC Cray inspired from an idea by: It911
OC Kai Silverblade created by: Gale Force
Chapters (52)