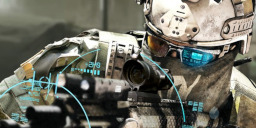 At the height of the EndWar, a Ghost team has orders to track down a madman who has kidnapped some of the United States' top scientists. However, when it turns out that the madman has used them to build a portal to escape from the world's ongoing onslaught, he runs through, forcing the Ghost team to follow through and take him down. In the aftermath of events, the Ghosts realize that they have no way to return home, and find themselves in a middle of a conflict that calls upon their talents to protect Equestria.
Crossover Material: Ghost Recon/MLP
Rated Teen for Graphic Violence and Language
Earth events take place in an alternate reality EndWar/Ghost Recon: Future Soldier.
Future Soldier technology is only drawn from initial previews of the game (exoskeletons, crosscoms, MR8s, rocket pods, active camouflage).
Chapters (27)