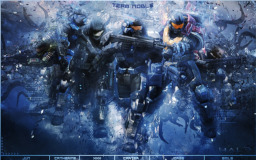 Source
There is a legend. A legend of six heroes destined to protect Equestria from danger. But these six are not the Elements of Harmony. They are more.
The Steadfast Commander.
The True Genius.
The Vigilant Eye.
The Merciless Wrath.
The Fighting Spirit.
The Lone Wolf.
They are the true Protectors of Equestria.
They are the Guardians.
They are Noble.
Alright, so here is the story I have teased on my blog, The Noble Guardians! If you already guessed the concept, good for you! But for the rest of you, this is a Halo: Reach Crossover. I have seen a couple fics in which Six or Jorge are brought to Equestria, but they were always alone, so I decided to bring them all together as one. This will follow the show's storyline, with Noble acting as additional characters to the episodes, but don't worry, I guarantee they will be major characters with their own arcs and there will be plenty of original situations. I will also most likely skip any episodes in which Noble would have little to no involvement. (This will be few and far between, one example being "Call of the Cutie" I mean, even the Mane Six are only minor characters in that episode. I'll probably either mention those in passing or have another story going on with those episodes occurring in the background.) Anyway, see how Noble reacts to becoming Equestria's destined protectors!
Cover image credit goes to Gekko3309.
Naturally, this story contains spoilers for Halo: Reach
Chapters (14)