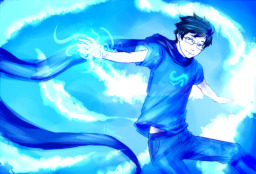 Source
So, I accepted an invitation from a first cousin, once removed. It seemed like a sweet deal at the time, I mean, there were these conventions I wanted to go and he so graciously offered me a place to stay! Alright, so I had to share a room with my brothers, but I had the first convention all for myself! Plenty of cash to spend, and my costume was really easy to make!
Naturally, I spent all of the money that didn't go into my costume on everything that caught my fancy.
I should have left that table alone.
Now? Now... I am not as mad at Celestia as I could have been, as I should have been, all things considered. I can't help but let it be smoke in the wind.
It's in my nature.
And she... she knew there was a chance it would happen.
I'm so sorry, Wind Whistler. It was my fault.
---
DJSkywalker has been contributing so much, I'm officially adding Dj as a co-author.
Chapters (56)