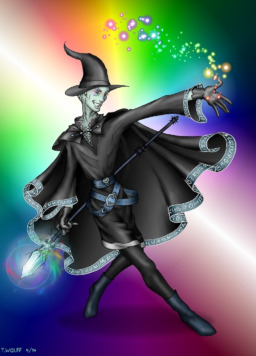 Ugh.
Alright, do you want some advice?
Don't go evil if you don't want to have heroes trying to kill you repeatedly. I know, sometimes you have to do things that are morally questionable, but at others, just be a good guy. Wait in line rather than summon a horde of undead to tear the throats out of everybody except the barista. Or just freeze everybody in place. That's at least funny in a conventional sense.
I'm (sort of) reformed now.
Unfortunately, there're these six mares and their ruler who are making this VERY DIFFICULT.
EDIT: After four days, the Featured streak has ended. It was a good run.
EDIT: Featured again on 10 May? Aw, stahp it guys. Stahp.
EDIT: New coverart courtesy of Leila Drake. Go to her and commission stuff.
Chapters (20)