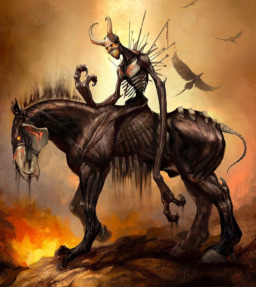 Source
Like most, I used to be a regular guy going about day-to-day life. Now? I'm stuck in a world of anthropomorphic ponies, deemed the most dangerous thing to ever grace the lands alongside a mismatched trickster, dark magic emo twat, lying (though admittedly sexy and hot) bug queen and a power stealing hybrid cunt.
Worst part though? I've been turned into a Nuckelavee from RWBY.
Swell.
---
So yeah, I've decided to do a displaced story where a guy gets turned into a grimm from RWBY, specifically the Nuckelavee. Maybe within the first five chapters I'll get some crossovers with other stories/writers going, who knows.
Any who, this has been Redsummer, and I hope you enjoy.
P.s: this is inspired by Equestria's White Fang by Garnet Naturea
P.p.s: I do not own either MLP, RWBY nor the cover art. So do not assume I do.
Chapters (4)