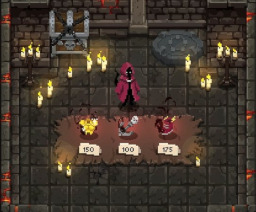 My name used to be Joshua, I was someone who made cosplay props and sold them for a decent price.
At every convention I would go to to sell my items I would dress as some form of merchant from one game or another and primary sell items that that character was likely to carry, even if it was from a completely different game as long as it made sense that they would have it.
At the last convention I went to I decided that I would dress as Nox The Unfortunate from Wizard of Legend and therefor would only sell items that were cursed in the game they came from.
Now thanks to selling the wrong thing to the wrong person me and my entire stock are in a new world, I AM Nox The Unfortunate, all the items I have ever made are here with me and real, and the ones that were never cursed are now cursed.
The good thing? Every thing I sell has a warning on it so I can't get in trouble for selling cursed items for any price, and I do mean any price... You don't need your soul, right?
Apparently this got featured 8/28/19... What? How?
Chapters (19)