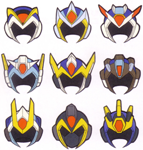 Long ago in the Magical Land of Ponies I wound up being struck there by buying something from a con. I shouldn't have done that at all. Now I'm the reploid known only as X.
While stuck in a past filled with strange little ponies I'm forced to deal with a strange chimera with a propensity for mind control, several miscommunications, denizens of a shadowy realm of evil and trying desperately to keep the lack of a heart beat from driving me insane due to a disconnect of my humanity and the robotic body I now possess. I hope to whatever god that lives here that I survive longer than a week.
Season 7 Finale Spoilers. Read at your own risk.
Editor: FTR2017
Chapters (39)