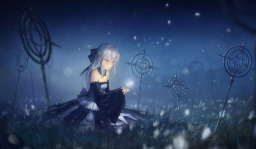 Loreley never asked to be put in a high position of rulership as the Queen of the Dead... and yet here she is.
She never asked to possess the power to have complete control over the dead... yet here she received it.
Now over the years of quiet solitude and ruling over all the dead, she has grown distant and prideful for no friends exist for the Queen of Death and unfortunately, she hates immortals and those who fear and/or cheat death.
If things turn out differently, maybe she might feel some sort of wholeness in her empty void that she calls her heart.
Co author Lunar Flarion
Edit: Featured on September 18...... I have no words for my thanks
Chapters (7)