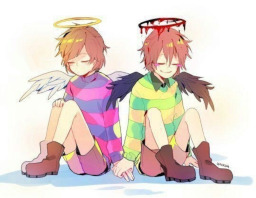 Source
Once upon a time a person died living a good life, when they died they were was given a second chance but didn't want it. Too bad they didn't have a choice in that matter but at the last moment they used their second chance to bring me back.
I am Chara Dreemurr, Princess of the Underground, Wife of Frisk Aster, and I will fix the mistakes of the past. I will protect my Family and bring back the Monsters, even is the price for such a thing is my corrupted and blackened soul.
Descriptions edited 9/16/2019 to better suit the story.
Tags will be added or removed as necessary.
Story Cover Image changes to reflect the state of the story so expect it to change often.
Story Featured 10/15/2019
Chapters (36)