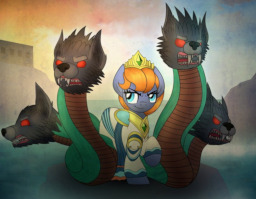 "I tried... I desperately tried so many attempts to warn them or stray them away from the path.
I told them multiple times that this path was not safe but did they listen?
No, of course not or my warnings would have become common knowledge to travellers.
"If we cut through the straights by the old hippogriff kingdom, we will be back home with time to spare." The captain told me.
That's the thing with merchants. Always so greedy, impatient and impulsive when an opportunity has presented itself to them.
Every single time, I told them this path was not safe but was met with total ignorance and sometimes with verbal or even physical abuse.
As a consequence, there was not a single ship to be seen again after they took the path. The local fishermen never came this way for no living beings were swimming around the path and a few of the superstitious ones knew what horrors awaited.
I can still hear their faint horrified screams as she tears them and this ship apart, plank by plank and limb by limb. It is too late for me and this ship, but any creature reading this message heed my warning.
Turn back, turn back and DON'T even think of returning to this place again.
This path is not safe.
For those who do not believe the stories once you reach her rock, you will know True terror for you are now in Scylla's domain."
Chapters (1)