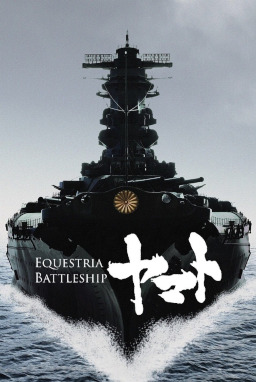 In the year 2012....a year after the defeat of Nightmare Moon by the Mane Six, her powerful military organization the New Lunar Republic forces is still at large and their remaining leaders and commanders planning to go on a full assault by invading islands and countries with their military forces including their navy for resources for their war effort and trying to reach their target....Equestria.
A large country that's surrounded by oceans and it's far away from Equestria called Zipang was the last country that the New Lunar Republic is going to invade in order for their military forces to reach Equestria but Zipang's military was vulnerable to this threat so the rulers of Zipang sent one of their sons named Imperial Crest to Canterlot the city and home of the two alicorn sisters to stay there for his safety and their only hope to save Zipang and preventing the New Lunar Republic from reaching Equestria.
During his stay, he only made two friends one is the Princess of the Night named Luna and his other friend is a human that he contacted with during his mirror portal experiment. Later around the end of the year Imperial Crest and Luna venture into his experimental mirror portal to the human world to discover and find a way to save his home country Zipang from the New Lunar Republic. What if an old battleship called the Yamato is an answer to Imperial Crest's mission? By resurrecting it?
However, once he accomplishes his mission he has to face challenges in the future that may affect his life, his country, family, friends, and the Yamato.
---
Inspired by an anime called 'Space Battleship Yamato' The Classic and Remake Series and other naval themed animes.
Chapters (2)