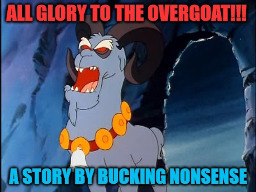 A millennium ago, give or take, Princesses Celestia and Luna were nearly defeated by the most powerful villain that they had ever faced, Grogar, the dreaded lord of Tambelon. Thanks only to the whims of random chance, the two princesses survived that encounter, but have been forced to live in fear of the time of his inevitable return. That time is now...
...But whatever revival was intended has gone a little... wrong. Behind the wheels of Grogar's body is the spirit of a slightly extremely eccentric human. Equestria would have been lucky to survive the real Grogar, but will the ponies fare any better with this loon ruling Tambelon?
Sex Tag For Sexy Times Reasons, Gore Tag For Gorey Time Reasons.
You. Have. Been. Warned.
Chapters (13)