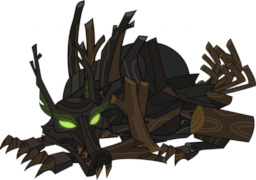 Source
Pinocchio wasn't the only wooden puppet to become a real person.
There are other puppets out there, animal-like beings controlled by quasi-intelligent trees. Ponies call them timberwolves and know them as nothing but beasts. But what happens if one of those beasts were to gain the intelligence and ambition of one of the most successful hunters in the universe, a human?
---
This story loosely shares continuity from Split Second: An Eternity Divided. Reading that is not required at all.
---
Chapters (15)