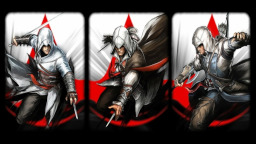 When Altair, Ezio, and Connor wake up in Equestria with one Apple of Eden, they must learn to cooperate with the locals, or face punishment and torture, or so they think.
~~~~~~~~~~
WARNING: Spoiler Alert in first chapter for AC games.
In no way related to My Little Halo.
All products within story belong to their respective owners.
And lastly, no; Legend is not Master Chief in THIS story.
Chapters (4)