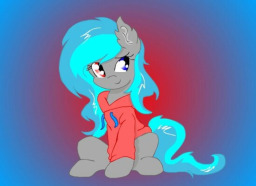 So... I met Discord. Cool guy, if I do say so myself. We were actually having a nice chat, but something made his powers go haywire and drag him back to Equestria, with me along for the ride. Oh yeah, I also became my OC Lightning Blaze, a vampony filly with the power to control Fire, Lightning and Darkness. So now I have to cope with conflicting memories, powers that I know next to nothing on how to control and how strong they are, cybernetic limbs, ponies treating me like a kid (which I guess I am now), and overall, trying to not get put into an orphanage because I am an orphan now. Fan-flaming-tastic.
Oh, and apparently, Diamond Tiara has a crush on me. Help.
---
For those of you who followed the pre-rewrite, this is a completely new plot with only a few details from the old one. Hope it's better than that cringey thing.
Cover art doesn't show it, but Blaze's front hooves are actually cybernetic enhancements due to reasons that will be explained on the story.
Chapters (5)