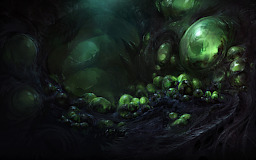 Source
I was living a comfortable life. Had a loving wife and son, money was absolutely no issue, everything was swell.
Next thing I know, I'm hearing voices, I can't move, I can't talk, I can't even breathe. Yet, I know I'm alive, though I don't entirely feel like myself anymore.
Then I end up being the last of survivor of my new race.
I'm not even human anymore...
------------------------
-A HiE fic as a changeling in an alternate universe where MLP was never aired on Earth.
-Starts shortly before the end of Season 2.
***Slow updates! You've been warned!***
-Current cover image is a placeholder. Trying to find a more appropriate one...
-Comments below contain spoilers!
-The [Tragedy] tag is there mainly because I can't put up the [Sad] tag, due to conflicts with the [Comedy] tag.
Chapters (18)