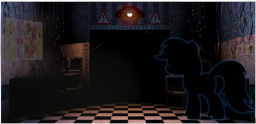 This story is a sequel to Five Nights at Twily's
---
Staying hidden from strange creatures becomes very difficult when there are no doors for me to hide behind.
It's also difficult when I can't figure out which creatures you're suppose to be hiding from, since it's obvious that some look like copies of others.
Also, since all I get are a few cameras and a few small flares to defend myself against magic-wielding beasts, well that's just the cherry on top of this "stress sundae".
And I gotta do it for at least five nights.
Joy.
Chapters (6)