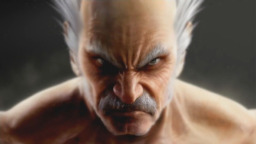 Heihachi Mishima has experienced some quite eyebrow raising experiences in his life. Climbing back up from a ravine after two years with sheer willpower, nothing special but something to prove his 'invincibility'.
Fighting his son who became a devil incarnate and then dropping him into a volcano after beating him, a mercy but necessary killing in his eyes.
Ambushed by an army of robots and then nearly killed by them after they self destructed in his face, after being betrayed by his son who was revived twenty years later who fought alongside him in the battle against the robots after they both lost to Heihachi's Grandson, a slap in the face to him which will be remedied at a later date.
But being caught in a storm after flying helplessly across the sky for who knows how many kilometres at who knows many miles per hour, after being blown away from the robot explosion, to end up face first crashing into Canterlot Mountain and to fall into Canterlot Castle to be in a coma for a month to wake to a land of talking horses AND THEN to end up in the middle of a battle between the Ponies and the Changelings that takes place all across Canterlot - now that is something he didn't expect to happen.
"I will crush all who stand in my way! Just as I have done so before."
Tekken Crossover
Fight Scenes guaranteed
Chapters (3)