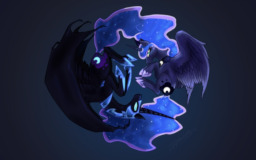 Source
To be inserted into Equestria, it's a dream come true for anybrony!
Meet the ponies!
Have super awesome magical adventures!
Use foreknowledge to avoid all those silly pratfall moments without screwing things up and causing irreparable harm to the Mane 6...uh...hopefully!
And all for the low cost of possessing Princess Luna, denying her any real freedom or the ability to move on with her life since she's in your head and you're walking around as Nightmare Moon!
Yeah...there had to be a catch in there somewhere, didn't there?
Chapters (17)