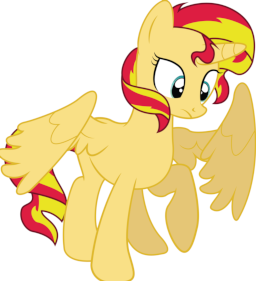 After the Friendship Games, Sunset feels it's time to return home.
Only when she gets there, Twilight's castle is nowhere to be found, Cadance just got her horn, and Princess Celestia is still calling the bacon-haired pony her prized student rather than a failed one. And just reliving her past isn't on the table thanks to a pair of wings Sunset seems to have sprouted upon her return to Equestria.
With Sunset being back before she's supposed to, will the world stay as harmonious and on track, or will everything go down in flames as Sunset has to deal with allegations that she's really a changeling in disguise, a nerdy stallion with blue hair that wants to be her coltfriend, a pretty pink princess in need of remedial magic lessons, and an annoying purple pre-teen pony that will absolutely not go to bed without first being read Starswirl's Complete Mystical Mysteries Compendium?
Only time will tell
Chapters (31)