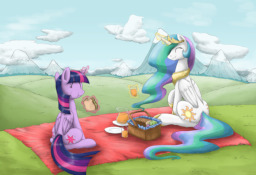 Source
Sunset Shimmer has faced a lot, but now she returns to something that puts more butterflies in her stomach than everything else combined...returning home for a simple picnic with her mentor and Princess Cadence.
Can she reconcile with her loved ones and enjoy the day? Can she get over her nerves enough to actually ENJOY the day?
A commission by Alexwarlorn, who wanted a carefree, happy, lighthearted Slice of Life story I was glad to provide.
Hope you guys enjoy it!
My Little Pony belongs to Hasbro!
Thanks to otakuap for the cover pic! Pretend that you're looking at it from Sunset's POV!
Chapters (1)