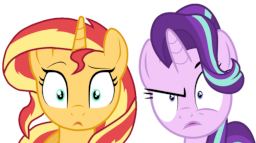 This story is a sequel to Sunset Shimmer is MAD about EVERYTHING
---
The mysterious Table of Harmony has called on Starlight Glimmer to solve a friendship problem at Canterlot Castle, but wait! A second cutie mark belonging to a magically inclined alicorn has appeared, and unfortunately for Twilight, it's not hers.
Can Sunset Shimmer help Starlight Glimmer untangle this mysterious problem in Canterlot, or will her own personal past prove more a hindrance than anything?
Spoilers for 'A Royal Problem'
Sunset vector by Sunsetmajka626.
Starlight vector by Cloudyskie.
Chapters (11)