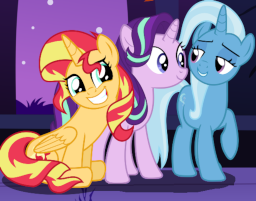 Source
This story is a sequel to The Equestria Club
---
A while back, Princess Twilight Sparkle brought her friends Starlight Glimmer, Moondancer, and Dragon Lord Ember to the human world for a weekend sleepover with Sunset Shimmer.
Now, with an open invitation to come to Equestria whenever she wants to visit, Sunset Shimmer decides to take advantage of a lazy three-day weekend to go through the portal.
With new surprises and new friends awaiting her in Equestria, and her friends back home wanting to know more about where their magical friend comes from, the portal between worlds is about to see a lot of activity...
Commissioned through Patreon. Find out how you can commission a story today!
Chapters (9)