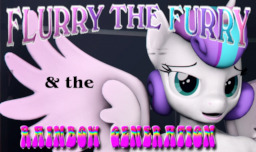 Source
This story is a sequel to Just Girls Talking Dirty
---
As an adorable little baby with powerful magic, Flurry Heart was a lovable, if chaotic, ray of sunshine.
As a teenage princess who seems to be vying for the title "Princess of Lust", she's a constant source of exasperation for her parents. Her latest stunt--accidentally turning herself into an "anthromorph", as Princess Twilight calls it, and getting stuck that way--is just another misadventure in a long string of teen hijinks.
Now, Flurry has somehow managed to accidentally teleport herself to another dimension. With a whole new world to explore and an "auntie" she rarely ever sees to aggravate, plus new friends to make (and aggravate), Flurry decides to stick around for a while and turn Canterlot High upside down.
A continuation of this chapter of Just Girls Talking Dirty, toned down (slightly) to a strong Teen rating for innuendo, insinuation, naughty behavior, and a princess who doesn't especially care where and when she's naked.
Warning: Extremely horny and mischievous teenage Flurry Heart incoming!
(Base image used for the cover created by Dashie116, used with permission.)
Chapters (2)