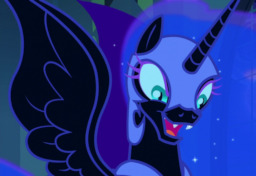 This story is a sequel to Cheer Princess
---
Princess Celestia followed Sunset Shimmer through the mirror portal and became stranded in another world. Without her, Princess Cadance was the only pony left capable of moving the sun and the moon.
With the help of Zecora, Cadance learned to move the heavens, but as she brought about night for the first time, she accidentally released Nightmare Moon from her prison.
Now, with the assistance of Princess Cadance, Nightmare Moon rules Equestria. As the search for Princess Celestia continues, Cadance strives to reach the heart of Princess Luna, to restore her to the gentle and kind mare she once was, while Nightmare Moon learns what it truly means to rule a kingdom.
Chapters (2)