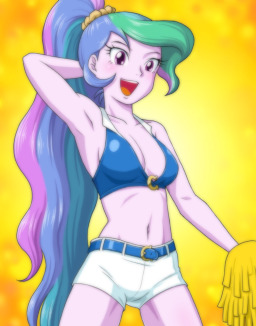 Source
She didn't think. She just jumped through the portal.
Then it closed behind her.
Stuck in the body of a human teenager, Princess Celestia finds herself trapped in the same world as her bitter student. Even as she and Sunset Shimmer both work to adapt to their new environment and bodies, Celestia is faced with an additional challenge: Sunset Shimmer is attempting to become the queen of Canterlot High, and the only way Celestia can fight back is...
...by becoming more popular.
(Book One preread by DrakeyC and Zef.)
Chapters (17)