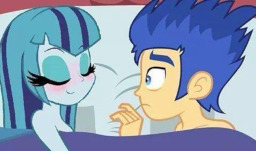 Source
One morning, Flash Sentry wakes up in bed next to Sonata Dusk.
Something very clearly happened between them.
But he's not really sure how or why. And he's kind of freaking out.
In a panic, he turns to the one person he thinks can help him...
His ex.
Good plan, right?
(Inspired by the cover art.)
Chapters (11)