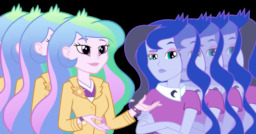 Something's been bothering Sunset Shimmer for a while now.
How can there be a human version of Princess Celestia who's in her early forties, when Princess Celestia herself is thousands of years old?
The Rainbooms catch wind of Celestia and Luna's upcoming family reunion, and decide to crash it.
What they find there is...disturbing.
Chapters (1)