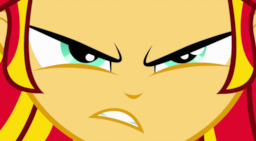 During her time in the human world, Sunset Shimmer has experienced many things.
Including, unfortunately, the frustration of having to deal with incompetent, negligent, or just plain rude package delivery service.
After putting up with one package delivery nightmare too many, Sunset Shimmer decides enough is enough.
Now, it's time to make a delivery of her own.
---
For Zef.
Chapters (1)