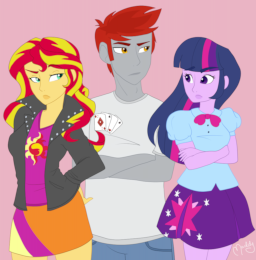 Source
My name is Jack Diamond. My family just moved to Ponyville because of my dad's new job. I'm now starting my junior year at Canterlot High School, having to make new friends, trying to pass my classes, maybe get a girlfriend, the usual stuff.
But CHS is not your average school. With every unexpected thing that can happen there, I'm going to need some help from Twilight and her friends to make it through.
The only catch is that I'm not some average student, but a student with a special 'gift' that no one knows. I'm still learning how it works because I learn something new about my 'gift', and maybe my time here could help me with that...if I can survive.
---
This is placed in an alternate Equestria Girls world, without the pony world that appears in the movies.
(1st person POV)
Cover art done by MaddyMoiselle
---
Part of the Equestria World saga.
Book 1: Surviving Canterlot High
Book 2: The Rise of Harmony
Book 3: The Secret of Camp Everfree
Book 4: Battle of the Sirens
Book 5: The Thousand Year War
Chapters (42)