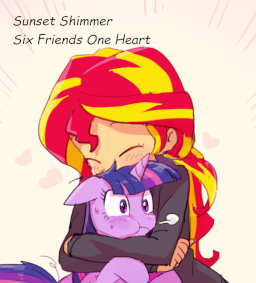 Source
Broken, alone, heart sick, Anon-a-miss had taken more than Sunset's friends. They had taken away her heart. Her hope. Her life.
Anon-a-miss had taken away any reason she had to continue to live. She tried to soldier through it. Until she couldn't.
But she wasn't alone. When she couldn't find hope, hope found her. Life found a way. Harmony holds her own, enfolds them, and loves them where they are.
Sunset had hope. Hope lifted her up, and carried her forward when she was ready to lie down and die. Hope rekindled friendships, mended hearts, rebuilt broken lives. Hope restored life.
And Friendship was magic.
This is the story of Sunset's fall, her sorrows, and her attempt to end her life. But it's more than that.
It's also a story of hope. Of friendship. And of Harmony's grace, and the joys that come from living, loving, and helping friends. It's a story of happy moments, funny moments, joyful moments, living and loving even when days are darkest.
Not Just Another Anon-a-miss story - but set in and borrows heavily from the Anon-a-miss Holiday Comic and other Anon-a-miss fiction.
This story contains scenes of Violence and Suicide, be forewarned.
If you are thinking of Suicide, please get help! You are not alone! You are wanted, help is there, please just reach out, let someone know, let them care. Please!
Featured on 26 March 2021! Thanks!

Chapters (61)