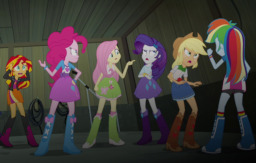 According to popular myth, girls don't fart.
Yeah, we all know that's a load.
Sunset Shimmer, Rainbow Dash, Pinkie Pie, Applejack, Rarity, and Fluttershy are having a slumber party, having a good time as friends, when the unexpected happens.
Someone farts and stinks up the whole room.
None of them will admit they did it. Each of them is blaming one of the others.
Can a fart destroy friendship?
Chapters (1)