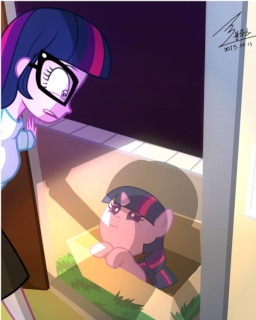 coverart by 0Bluse (thanks for the help finding them, luckyboys121)and can be found HERE. Found it in a blog and the idea just popped into my head.
Twilight Sparkle is the top student of Crystal Prep... but she does not like being there. Everyone is always trying to one up each other and no one wants to be friends.
The only person who shows her any care is her sister-in-law, Dean Cadance, now that her brother is long since gone from the school and the only real friend she has there is her dog, Spike.
Thankfully, something odd has been occurring not too far from Crystal Prep's rival school, Canterlot High, that has been keeping her mind off those sad parts of her life. She has been noticing some very weird reports and energy readings from there.
However, her research into the odd events come to both a grinding halt and something rapidly advance when, late one night, she finds a box on her house's front doorstep and, inside the box, is little purple pony with a horn and wings. Unbeknownst to her, it's her Pony Counterpart, Princess Twilight Sparkle.
Only there's one small problem: She's a baby, a PONY baby and now Twilight finds herself taking care of a foal with powers that make her shudder. No matter how bad tempered a baby her brother tells her she was, this foal eclipses her tantrums but dimensions.
Fun fact: I actually came up with this idea shortly after Friendship Games, not Ail-icorn.
Chapters (5)