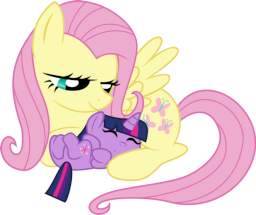 To celebrate Tirek's defeat, Pinkie has a huge party at the Friendship Castle. During this party, Fluttershy says how she wishes she had a foal, but doesn't think she'd be a good mother.Twilight tells her she'd be a great mother and that, if Fluttershy had been her mother, she'd have been a great one to her. Pumpkin, hearing this, casts a spell, just as Discord, for a joke, is about to turn Twilight into a foal for the night. When Twilight wakes up the next morning, she finds she's become an alicorn foal and fluttershy is her mother.
They both remember that that isn't how it use to be, but other than Discord and Pinkie nopony else seems to remember it and, for some reason, Discord can't reverse the spell. What will they do now?
FEATURED 30/6/2014
inspired by the photo in this blog by Twi-Fi.
the new cover art is by Princess Glitzy, but the blog was what inspired this fic.
In case you were wondering, no, twilight isn't a unicorn in the picture, she's an alicorn; you just can't see her wings because she's laying on her back is all.
Chapters (12)