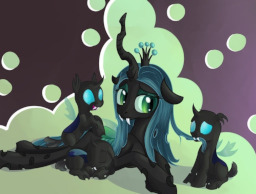 Coverart belongs to PostScripting and can be found here. Thanks to Pickle Tickler for PMing me the link.
My week has gone from bad to worse. First I get a horrible cold that leaves me bedridden and unable to sleep for the last two nights. Then, as I was listening to a reading of a fanfic, I suddenly find myself in the Everfree Forest, in the body of a Changeling, feeling like my whole body is on fire.
Worse, I've apparently got a egg entrusted to me by Chrysalis from before the invasion that's about to hatch and it's a Royal Egg.
Well, at least I don't have to worry about my cold anymore.
Sex tag for sexual references.
In Popular Stories 30/12/2019? A surprisingly nice gift for the end of the year. thanks, everyone
Chapters (7)