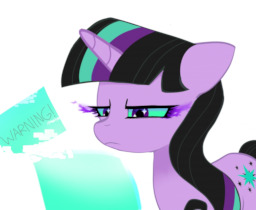 She was just someone normal, wanting to fill the void with something when her favorite show ended years ago.
 
Until an app was suddenly downloaded unknowingly on her phone, that is.
Suddenly opening the mysterious app out of curiosity, multiple texts appeared in the blackness of her screen, explaining that this was a game, an AU based on the start of the show of MLP, and how the main story had gotten out of wack and needed her help to fix it.
 
She, despite all the red flags, somehow chose to continue by pressing the button that suddenly popped up with the words [I'll help!].
 
 
Big Mistake.
_____________________
I just like Twivine, though I didn't design the character. So if you wanna know about the creator just click the link: The Link
Oh and I created the cover, if you wanna know.
Chapters (5)