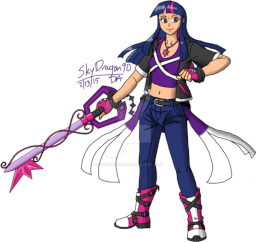 Source
Cover Art by skydragon90 Check him out, he's got good artwork.
Edit: Sweet! Featured on 11/16/2019!
2nd Edit: Let the Trope-ing begin! We got a TV-Tropes page!
https://tvtropes.org/pmwiki/pmwiki.php/FanFic/TheKingdomverse
Thanks again to SuperSonicHeroes. You are awesome, my friend!
---
Twilight Sparkle is a seemingly normal Unicorn. Sure she's the Element of Magic, leader of the Bearers of Harmony (affectionally called the Main 6) and has been the personal student of Princess Celestia since she was 10, but other than that she's just a normal Unicorn.
But that's all about to change.
It started off when she dreamed of a strange place full of stained glass and dark, shadowy creatures, and a voice telling her that she would be the light that would save this world.
And then the dark storm came, and the shadowy creatures from her dreams became a lot more real.
Fortunately, that was the moment she unlocked her own power: a weapon of light called a Keyblade.
Unfortunately she ends up being separated from her friends, and her world exploded. Quite literally.
And then she awakes to meet a duck who's a sorcerer, a dog who's the captain of their knights, and a mouse who also wields a Keyblade and happens to be the King of the "World" she was on.
Oh, and she's now a human.
So all in all, normal for Twilight has just gone out the window.
After getting a crash course in Heartless, Nobodies, Keyblades (which includes the adventures of their one friend Sora) and the ongoing fight between the Light and the Dark, Twilight sets out to find her friends and hopefully find a way to restore Equestria. And maybe make some new friends along the way.
But in the shadows, sinister forces conspire against her, and she may find out that her greatest enemy is the one she'd never suspect.
Will Twilight Sparkle prevail? Or will her Heart fall to the darkness?
The only way to find out is to read the tale of Twilight's Awakening.
---
Okay, so a bit of spoilery stuff to get out of the way quick:
-This story starts during Magical Mystery Cure, but immediately goes AU when they cast Starswirl's Unfinished Spell. You'll see what I mean.
-Kingdom Hearts-wise, the story takes place during the events of Dream Drop Distance. Mostly because I haven't played Kingdom Hearts 3 yet, so I can't write about anything that happened in that.
-Certain worlds that Twilight visits in this story will have their stories diverge from canon after she appears. But I don't think anyone will notice since that's already happened in the actual Kingdom Hearts games. I'm looking at you, Aladdin and Hercules.
-Some of the worlds that appear will be from Disney franchises that haven't appeared yet, but there will also be some worlds that aren't from Disney properties. I'd tell you which ones, but that would just be spoiling the surprise.

Hope you guys enjoy the story!
Chapters (7)