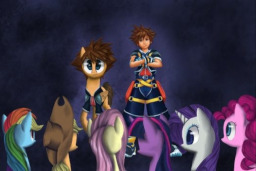 Source
Sora was an average teenage boy, though average was an understatement. At the age of fourteen, he was thrust into a battle between light and darkness, wielding a mystical weapon known as the Keyblade, saving worlds from creatures known as the Heartless and finding his friends, Riku and Kairi. He has saved the universe many times from the Heartless, saved Kingdom Hearts from being controlled by those with evil intentions, and has made new friends in each world he visited.
However, he fails his mark of mastery exam after almost getting himself killed by Xehanort's younger self, needing to be rescued by his friends as Riku and Kairi become Keyblade Masters. Needing more training before he can retake his exam, Master Yen Sid gives him coordinates to somewhere in the galaxy, though the information on what was there or why was unanswered, obeying his teacher. But as he was close to reaching the coordinates, his own gummi ship, which he crafted on his own while on a break a week prior to his exam's failure, malfunctions for some unknown reason and crashes into the world of Equestria.
With no way to make it back home, and Equestria too far from the rest of the worlds to contact his friends or fix his ship, Sora is stranded on this new world until someone realized he's been missing. Until then, he's going to have to fit in, his magic transforming his body into being a part of the world like in many others he visited in the past, and be patient. Little does he know that there were also dangers that lurked in this world, aside from any Heartless that may appear.
Sora's story takes place after the events of Dream Drop Distance, his adventures beginning in Equestria before the season 1 premiere of My Little Pony: Friendship is Magic.
Kingdom Hearts is owned by Square Enix and Disney. My Little Pony: Friendship is Magic is owned by Hasbro.
Chapters (153)