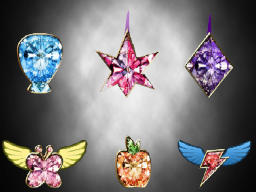 Source
( Chapter proofreading by: Pinkiepierocks and MD stephen51991 )
Yen Sid, receives a message from an old friend of his asking for the assistance of a Keyblade Bearer. Dark and mysterious happenings have suddenly started appearing in Equestria. Sora is sent on a mission to take care of the situation starting by looking for the world's key hole and locking it. As a request on Yen Sid's part, Sora will also remain there for a year to train and unlock abilities he never knew he had to prepare him for 2nd attempt at the Mark of Mastery and become a Keyblade Master. However, he will need the help of his new friends to activate it until he can learn to do it on his own. Of course this doesn't mean he'll be the only one getting something out of this exchange. His friends will be gaining some new powers along with him. The question is, will they be able to take on the Darkness that is slowly making it's presence known to Equestria. One thing is certain: Things are gonna get crazy with Sora and the Elements of Harmony.
I do now own Kingdom Hearts or My Little Pony nor do I own any pictures that you see in the story.
I do not own the background music, and it is optional for the reader to play them at certain parts of the story, you are free to not click on them if you feel like it. they are there basically help with the atmosphere of parts of the story.
Chapters (57)