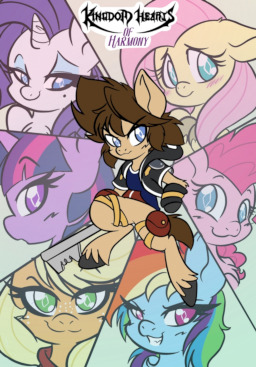 This story is a sequel to Kingdom Hearts of Harmony: The Other Side
---
The weight of Sora's failure at the keyblade exam weighs heavy in his heart. In his sullen despair, a gateway to a new world with creatures had never seen before would open to him, calling for help.
Tasked with becoming their hero of light, will Sora be able to become the hero he was always meant to be or will his own darkness take it all away?
Part of the KINGDOMHEARTSVerse
SPOILERS IN THE MESSAGES BELOW
Rated T for suggestive theme.
(EDITING DONE BY NIGHTMAREKNIGHT, KILDEEZ AND MLPFAN12!!)
(Image by Me)
Chapters (39)