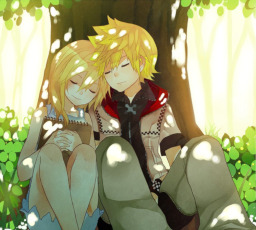 Roxas and Naminé had resigned themselves to their fates, having merged with Sora and Kairi; their short lives had come to an end. What they didn't expect however, was to be drawn into a land of talking ponies. Now they must become its guardians as old enemies from their world's past threaten the future of this one.
Fate is up for grabs in a race against time as this new world around them starts becoming overwhelmed by darkness. Bonds of friendship and greater will be tested time and again as the two Nobodies try to find their place in this new world and keep it from being consumed.
The future is up for grabs, and it will be up to Roxas and Naminé to decide which will come to pass.
A collaborative effort with my friend, shagohad12
Takes place post Kingdom Hearts II. Kingdom Hearts is under ownership of Disney and Square Enix. My Little Pony: Friendship is Magic and all its subsidiaries are owned by Hasbro. This story is written for entertainment purposes only. No copyright infringement was intended.
Chapters (2)