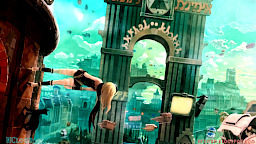 Source
How long have I been here? I don't know and am not sure I want to. All I know is that my old "friend" Discord is free and he is saying that I can be free too. Why would he want that? Doesn't he remember what I promised I would do if I got free? He causes chaos for fun. Me... I cause chaos to destroy. Celestia and Luna will pay for what they did, or so help me I will cause this entire planet to pay!
Meet Allison, a young girl transported to another world over one thousand years ago. Armed with incredible powers, she attempted to be a hero of this new world, but was shunned and feared by its leaders. After a particular incident, she was sealed in stone by the Elements of Harmony. Now that she has been freed, will revenge be her goal or will she focus on returning to a home that may no longer exist?
Rated teen for use of strong language, intense violence, and death. You have been warned.
Based of the PlayStation Vita exclusive: Gravity Rush.
Holy Crap my first featured story! Woohoo! Featured on May 8, 2014
Featured again on June 16, 2014!
And again on August 5! I'm gonna stop here, but man it's great to have such amazing fans!
Chapters (27)