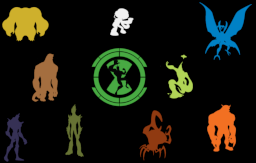 Source
Meet Ben, not to be confused with his cosplay character. He considers himself decent, fun-loving, and strong, but only because it is how he copes with the voices in his mind. Ten other personalities that try to dominate him at every turn. It sent him from psych ward to psych ward, but nothing ever improved. He was under constant watch, despite living off the streets. It was only at school where he ever got any food or proper shelter, though he never gave up hope that one day, his luck would change.
One day, at his first Comic Con, dressed as his favorite TV character, Ben meets a strange fate of falling from his world and into one of Technicolor ponies. The voices were finally gone from his mind, freeing him... or so he thought. Now the voices have their own bodies and still haven't given up tying to control their host. This led to many acts of destruction in this land, landing all of them imprisoned for millennia. Now Ben is free, but so are the voices. With some unlikely friends by his side, can Ben finally tame these monsters, or will they finally succeed in taking what they want?
Rated teen for occasional swearing and sexual references. You have been warned.
Featured on February 17, 2015!
Chapters (12)