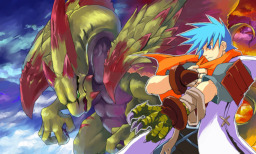 [Breath of Fire III x MLP]
He was supposed to be going at a costume party, dragged away from his house by his closest friends. Being the typical anti-social teen who did not want to socialize, he came begrudgingly after he heard that the theme was supposed to be about your favorite video game character.
It was only after he bought a replica of a perfectly completed boxed set of his favorite character's Dragon Genes-- marble-like objects that hold spirits of slain dragons which the character can then use their power after finding them-- that everything went wrong.
On the night of the party, when the authentic looking diary that came along with the box opened suddenly without anyone touching it, he made the mistake of coming close to it as the pages began to rapidly turn on their own.
Now here he was, in an different land where his anti-social lifestyle was finally biting him in the rear, his body turned into that of the character that he was planning to dress up as, and no idea of how to get home. What left is there to do other than brood?
Chapters (30)